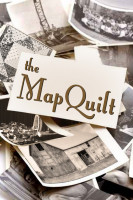 The Map Quilt
Book 2 in the Buried Treasure Mysteries
Originally published May 4, 2012 as an electronic book from MuseItUp Books, Canada
Released by Fox Ridge Publications, updated in 2020
308 pp.
$12.95 Print from Amazon
$2.99 eBook
About the Book:
Death in rural Wisconsin is only the beginning to new chaos in Robertsville.
What do a stolen piece of revolutionary agricultural equipment, a long-buried skeleton in the yard, and an old quilt with secrets have in common?
Hart and Judy Wingate, who met in The Last Bequest, are back to solve the mystery of The Map Quilt. Hart's new battery design could forever change the farm implement industry. But after the death of Hart's most confrontational colleague in a fire that destroys Hart's workshop, the battery is missing.
Throw in a guest speaker invited to Judy's elementary classroom who insists she owns the land under Hart's chief competitor's corporate headquarters, and a police chief who's making eyes at Hart's widowed mother, it's no wonder Hart is under a ton of pressure to make sure his adventurous pregnant wife stays safe while trying to preserve his company and his reputation.