Author, Executive Editor, Freelance editor, Book reviewer, Interviewer, Mentor
unique relationships...family...mystery...love...victory
"Let us hold unswervingly to our faith, for He who promised is faithful." Hebrews 10:23
Lisa Lickel is an author and editor who lives in the rolling hills of western Wisconsin. A multi-published, award-winning novelist,
she also writes short stories, feature articles, and radio theater.
NEWS
I've just signed the contract for the reboot of the Fancy Cat Mysteries - Memnet, Isis, and Tut and back for more mayhem in Apple Grove... stay tuned. Due to be released early 2019
***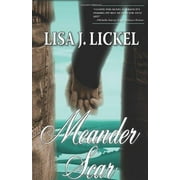 Now available through WalMart, Meander Scar
***
NEW RELEASE!
A story following Meander Scar....
CENTRIFUGAL FORCE
Former lovers attempt to rectify the past to save their children and preserve the fragile world in crisis.
Rachel Michels made a poor choice which resulted in her biggest blessing, her daughter, Maeve. When the father of that blessing returns decades later, she knows he wants something she'd taken from him. Rachel has lived in near seclusion and mistrust, fearful of losing the one person who's kept her life from coming unglued.
Professor Gervas Friedemann returns to Wisconsin, seeking a missing ancient artifact, along with help for his oldest daughter who is suffering from a rare genetic blood disorder. With the European Union at stake, blackmail could negatively impact a crucial vote in the German Parliament unless Gervas recovers an irreplaceable relic he left in the United States on a lecture tour a lifetime ago. He knows who took the piece of history he once flaunted—the woman who had stolen his soul. He only hopes she still has the ring.
ISBN-13: 978-0-9967683-6-8
ISBN 10: 099676836X
Electronic ISBN: 978-0-9967683-7-5
Library of Congress Control Number: 2017918611
316 pp Print
16.99 print
2.99 ebook
Kobo
***
Find The Last Detail on
CBD!
IN AUDIO
Brave New Century
from Pelican Ventures, Prism Books imprint, is now in
AUDIO!
First Children of Farmington
Matthew LaCraft, The Yankee Boy, a FIVE STAR READERS FAVORITE, is here, narrated by the lovely Stephanie Quinn.
Buy on
Amazon
, $3.99 or less, coming to iTunes books, and others.