The Map Quilt,
a sequel to
The Gold Standard,
released in May 4, 2012 as an electronic book from MuseItUp Books, Canada
About the Book:
Death in rural Wisconsin is only the beginning to new chaos in Robertsville. What do a stolen piece of revolutionary agricultural equipment, a long-buried skeleton in the yard, and an old quilt with secrets have in common? Hart and Judy Wingate, who met in The Gold Standard, are back to solve the mystery of The Map Quilt. Hart's new battery design could forever change the farm implement industry. But after the death of Hart's most confrontational colleague in a fire that destroys Hart's workshop, the battery is missing.
Throw in a guest speaker invited to Judy's elementary classroom who insists she owns the land under Hart's chief competitor's corporate headquarters, and a police chief who's making eyes at Hart's widowed mother, it's no wonder Hart is under a ton of pressure to make sure his adventurous pregnant wife stays safe while trying to preserve his company and his reputation.
The Map Quilt
ISBN:

978-009856-215-0-6
currently on sale for $2.99 - regular electronic price: $5.99
Purchase in any electronic format from the publisher
here
.
Or From Amazon here.
Readers' Discussion Guide is here:
http://www.lisalickel.com/2011/02/discussion-guide-for-map-quilt.html
The Print version of The Map Quilt is available from Five Loaves and Two Small Fish: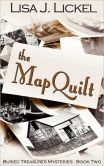 ISBN: 978-0985621506
$9.95
Order from your favorite local book store, or
Buy from Barnes and Noble
Buy from Amazon
About the Cover: Read an Interview with the artist
Read an excerpt
Review from
Peggy Bennitt
:
Map Quilt— Lisa J. Lickel—Buried Treasure Mysteries, Book 2
There are lots of myths and legends that surround the truth of the Underground Railroad, and its operators and stations along the way to safety in the north and Canada. Dynamic storytellers, oral tradition and dedicated teachers continue to keep this piece of history alive and real for each new generation. Map quilts are a part of the mystique that surrounds this era of American history.
When Judy was awakened by a kick to the bladder, she awoke with the remnants of a dream clouding her mind. She rolled her hugely distended body out of bed and picked her way from the bedroom and down the stairs, carefully avoiding the cat, Poncho Villa. Through the mudroom door, she noticed a haze on the early morning horizon and could hear a siren in the distance…and coming closer. Fire!
Judy Wingate, a fifth grade teacher in Robertsville, Wisconsin, is winding down the school year for her students with an oral presentation about the Underground Railroad.

Her husband, Hart, is an engineer and inventor for AdventiveAg, a satellite company of a larger corporation in St. Louis, Missouri. Together with his partner, Hart is preparing to "go public" with their newest product: a solar-powered battery, especially adaptable for farm equipment.
To add to the busyness of their life, Hart and Judy Wingate are expecting their first baby in just a few weeks. What they aren't expecting is to have Hart's workshop burn down in the wee morning hours, or the grisly discovery in the burned out workshop.
The Map Quilt by Lisa J. Lickel, weaves mystery, myths, black history, and the dynamics of family and community into a great read. The thread in the story is the legend of map quilts used in the Underground Railroad to help slaves, and freedmen alike, escape their pursuers using fabric maps designed as quilts. By adding corporate intrigue and spiritual questioning to the mix, Lickel blends the fabric of daily life with pieces of history for a wonderful reading adventure.
The History Behind the Map Quilt